Suicide
Unfortunately, suicide is not uncommon in our industry, and sadly during the past year we've seen an increase in calls to our helpline for support around this topic.
In the UK, men are three times more likely to take their own lives than women. And, in an industry that employs a significant number of men, we all have a duty to know the warning signs and look out for each other.
Warning signs to look out for in your friends, family or co-workers include:
Talking about wanting to die
Withdrawing or feeling isolated
Talking about being a burden to others
Experiencing extreme mood swings
Drug or alcohol misuse
Feelings of anger, hopelessness or disconnection
Giving away possessions
Giving up previously loved activities
Writing goodbye letters
We've also put together some tips to help you check-in on your colleagues, family, friends and what to do if you are worried about them.

If you're struggling with your mental health, get in touch. You can call us free on 08081 311 333 or chat with us online - we're here to help!
If you're worried about suicide you can call the Samaritans free, at any time on 116 123 and if a life is in immediate danger call 999.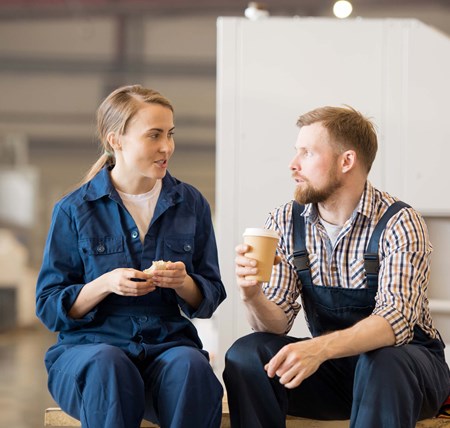 Di's story
Di asked Ben for help when she was worried about her daughter
"My daughter started to self-harm and, by the time she was 17, she tried to take her own life." 
Di's story
Sign up to hear more from Ben