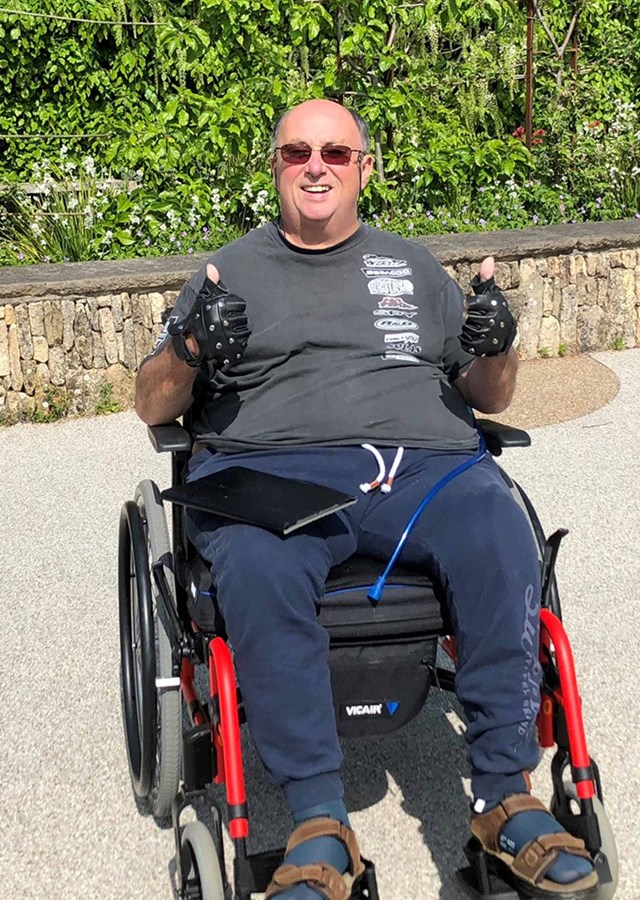 Our real life stories
Derek's story
Derek was in a motorbike accident which left him disabled. After paying for the necessary adaptations to his flat, he couldn't afford to buy himself the electric wheelchair he needed...
Watch Derek's story
"I felt lost. I was immersed in a new world of disability after a motorcycle accident and found myself needing a powered wheelchair. I had become paraplegic. Before my accident, I always thought that if you were disabled, you would be well looked after by the Government, but you're not.
"I found myself struggling on disability benefits as I could no longer go out and earn what I used to. After spending a considerable amount of money converting my flat to suit my new needs, I couldn't then afford an electric wheelchair.

"When I first spoke to Ben, it was very positive and they helped fund my new wheelchair for me, along with three other charities. This means that I now have my freedom. I can go to the town for a coffee, to the shops and, as I live in Exmouth, down to the seafront. A lot of places I thought were flat actually aren't, so going anywhere in the manual wheelchair was horrendous. I struggled to go any further than half a mile from home in the manual chair. My new chair gets me out every day seeing people, otherwise I'd be pretty much confined to watching daytime TV. 
"I'm generally very comfortable in the chair, it's like sitting in a recliner armchair at home! Sometimes I'm so tired that it's nice to recline the chair back and have a nap, fully supported, which I couldn't do in the manual chair. I also still use my manual chair for exercise when I have the energy, as I have it hooked up to a hand bike and go cycling, so I'm pretty well catered for now.
Real life stories
Derek's story
"Sometimes you have to fight pretty hard to get support. After this experience, I feel very positive knowing that there are charities out there that support people with all sorts of personal needs. I don't feel so alone now and I want to help others in a similar situation. 
"I'd love to be able to walk again, but I can't turn back time. There are so many other challenges I will have to tackle but knowing there are charities like Ben who can help is really reassuring. 
"Without Ben's help, I don't know how I would have done this. Don't think you have to do everything on your own. Ben is there to help in many other ways, as well as with grants and funding."
Sign up to hear more from Ben