How to check in with others
Many people struggle to cope at one point or another in their lives. Reaching out to someone could help them know that someone cares, and that they are valued. It can be difficult for people to open up about how they are feeling, so it is important to keep checking in, and to be aware of the warning signs to look out for.
Here are some top tips to get you started:
Be brave
Suicide can be a sensitive subject, but don't be afraid to start a conversation and ask direct questions around suicide like 'Are you having suicidal thoughts?'. You will be able to tell if the person does not want to share with you. Asking difficult questions will show them that you are not scared to talk about it, and it may give them the confidence they need to share how they are feeling.
Ask open ended questions
Questions such as, "how have you been feeling?" or "what's on your mind?" give the person more opportunity to open up and say more than just "yes" or "no".
Listen without judgement
It is difficult for many to share how they are feeling, so it is really important to listen to them without making any judgements. Give them your undivided attention, and try not to talk about yourself or blame them for how they are feeling.
Be patient
Opening up can take time, make sure that you give them time and space to speak. If they pause, avoid jumping in to fill the silences – as they may have more to say. Remember that you don't need to try and solve all their problems, just listening will show them that you care and understand.
Take them seriously
It is important to take what the person is telling you seriously.  Some people who talk about having suicidal thoughts, may go on to act on their feelings. Keep offering your support and check in on them regularly. And, if you're worried that their life is in immediate danger, call 999.
Get additional help
It's important to recognise the limit of the support you can offer as a friend, and sometimes people need professional support, especially if this has been ongoing for a while. There are lots of services that can help:
Ben: If they work or have worked in automotive, or are a family dependant of someone that does – we're here to help

GP: Find your local GP

 

here

Samaritans: have a free helpline and lots of useful resources/support online
Hub of Hope: find local mental health support in your area
Having these conversations can be hard, so it's important to take care of yourself too. If you need someone to talk to, you can call our free and confidential helpline on 08081 311 333 or chat with us online Monday to Friday 8am – 8pm.
And, if you're worried about suicide you can call the Samaritans free, at any time on 116 123 and if you think a life is in immediate danger, call 999.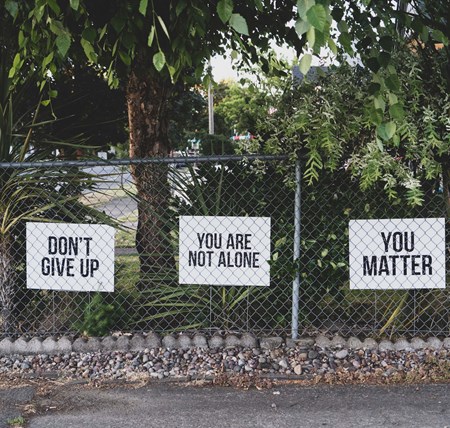 Sign up to hear more from Ben